The Shocking Revelation about Receiving a False Blessing
3 min read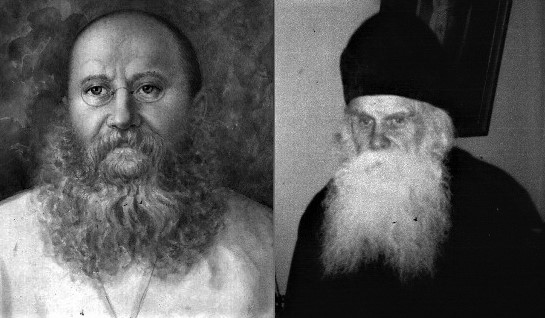 From the life of New Hieromartyr Michael Kostiuk of Kiev from catacombhistory.blogspot.com
On not receiving false blessings (from the life of Saint Michael Kostiuk):
During the German occupation of Kiev, during the Second World War, two bishops came to see the Elder (Archimandrite Michael). His conversation with them was strange. The Elder answered their thoughts, and they were silent. The bishops themselves were amazed (one of them was called Panteleimon, and the other – Leontius) at the Elder's gift. 
Meanwhile, Fr. Peter Savitsky* [he was Archimandrite Michael's secretary] had received the blessing of these 'bishops'. The Elder did not see this. 
As the 'bishops' were leaving, the Elder looked at Peter and cried out in surprise: "Peter! But you are so black, as if you had been covered with soot! Is that they've 'blessed' you? Come here, come here…"
And the Elder took Peter's head, and, as if rubbing or washing off some 'soot', did not let it out of his hands: "Look what they've done to you!"
* Hieromonk Peter Savitsky reposed in 1996, after suffering many years of imprisonment in the Soviet Gulag camps.
——————————————————————————–
Concerning the martyric death of Archimandrite Michael:
The Elder often said that no-one would know where his grave would be. And so it turned out. He knew both the day and the hour when they would arrest him. On the eve he said to his novice:
"Tomorrow come with your cassock. We shall have 'guests'!.."
He arrived as the Elder had ordered him, suspecting nothing. At the appointed hour the Elder himself put on his cassock and ordered his novice to put his on… And then came the chekists:
"Are you (surname, Christian name, patronymic)?"
"Yes."
"And who is this?"
"This is my secretary, Hieromonk (such-and-such)."
The procurator's order for his arrest was read out. And they led them away to the MGB (KGB) prison. In the "order of investigation" the Elder underwent repeated beatings in a particular place with rubber hoses. And when the hands of those who were beating him became tired, they continued with their feet. After this beating the Elder lost consciousness. In this condition they carried him into a one-man cell where they left him motionless. When he came to, he was unable to stand and was tormented by a terrible thirst. Days passed and he began to move… And they again subjected him to beating until loss of consciousness. This was repeated several times.
This was a specially premeditated and refined method of execution. They were killing the holy Elder slowly. They suspected that he was of royal descent… And this slow killing was carried out in the following manner. They placed him face downwards on the floor. His hands were spread out in the shape of a cross, one on the right and the other on the left. There were four executioners. One was stationed on each hand. These people changed places. While two were beating, two were standing on the hands of the Elder, resting. They bared his spine, pulling his cassock over his head. But when the hands of all four were tired, they beat him with their feet. At this point the Elder lost consciousness.
The Elder himself related all this to someone before he died.
On November 25, 1944, according to a Resolution of a Special Conference of the People's Commissar of Interior Affairs of the USSR, Archimandrite Michael was sentenced to be shot and all his personal property confiscated.
The sentence was carried out on December 21, 1944. There are indications that Archimandrite Michael was a secret bishop.