Resources for Vomiting
2 min read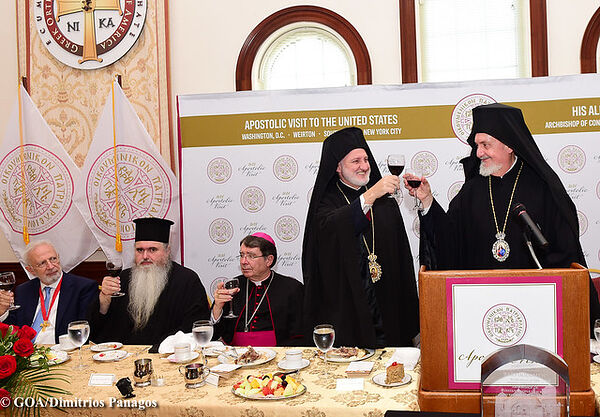 "Patriarch" Bartholomew was hospitalized on Sunday and Monday and didn't attend the Liturgy and banquet at St. Sophia Greek Orthodox Cathedral in D.C. And so "Archbishop" Elpidophoros welcomed the patriarch through his representative, Metropolitan Emmanuel of Chalcedon, who is accompanying the patriarch on this trip.
Elpidophoros referred to Bartholomew as "the Star of the East, who came to give us once again the light of the ever-shining and martyric Phanar," which is the "glory of the Orthodox Church and our devout Genos."
And mentioning the "Patriarchate of Moscow" who has not been part of the Assembly of Canonical Bishops since Constantinople made a "Church" in Ukraine, Elpidophoros said, "we nevertheless still consider them to be present with us in spirit,".
At the luncheon following the Divine Liturgy, "Metropolitan" Emmanuel thanked the local Philoptochos Society for "raising awareness about recycling and creation care," and emphasized how much "the Ecumenical Patriarch enjoyed traveling from the Phanar on the beautiful solar-paneled jet of the Fly Boys, with our co-pilots Fr. Steven and Fr. Panagiotis!" God forbid we forget to speak about the "green" worries of the "Patriarchate" of Constantinople. Maybe it would be a good idea if the "Patriarchate" could leave environmental issues to someone else and they could deal with matters of the Faith?
Trying again to slyly encourage the idea of a universal bishop, Elphidophoros says, "Our presence here today confirms the universal fellowship that binds all Orthodox Christians around the globe together; for we have one 'Ecumenical' Patriarch. And His All-Holiness has served all of Orthodoxy in this ministry of mercy for thirty years."
In his address at Georgetown University, Bartholomew himself highlighted the ecological agenda that he has been working on for 30 years, declaring that "the entire life of the Church is a calling to ecological awareness." But is the entire life of the "Patriarchate" calling to Christ and Holy Orthodoxy?
Bartholomew also met with President Biden, whom he praised as a "man of faith."