Did you Realize that Anglican Retired Bishop Charles Gore was brought in to Constantinople to Encourage the Calendar Change?
2 min read
"For us in the West, it would be spiritual satisfaction to find ourselves in the position to celebrate together the great Christian feasts of the Nativity, Resurrection, and Pentecost...the second step would be completed by the CALENDAR MATTER which would bring us simultaneous celebration of the feasts."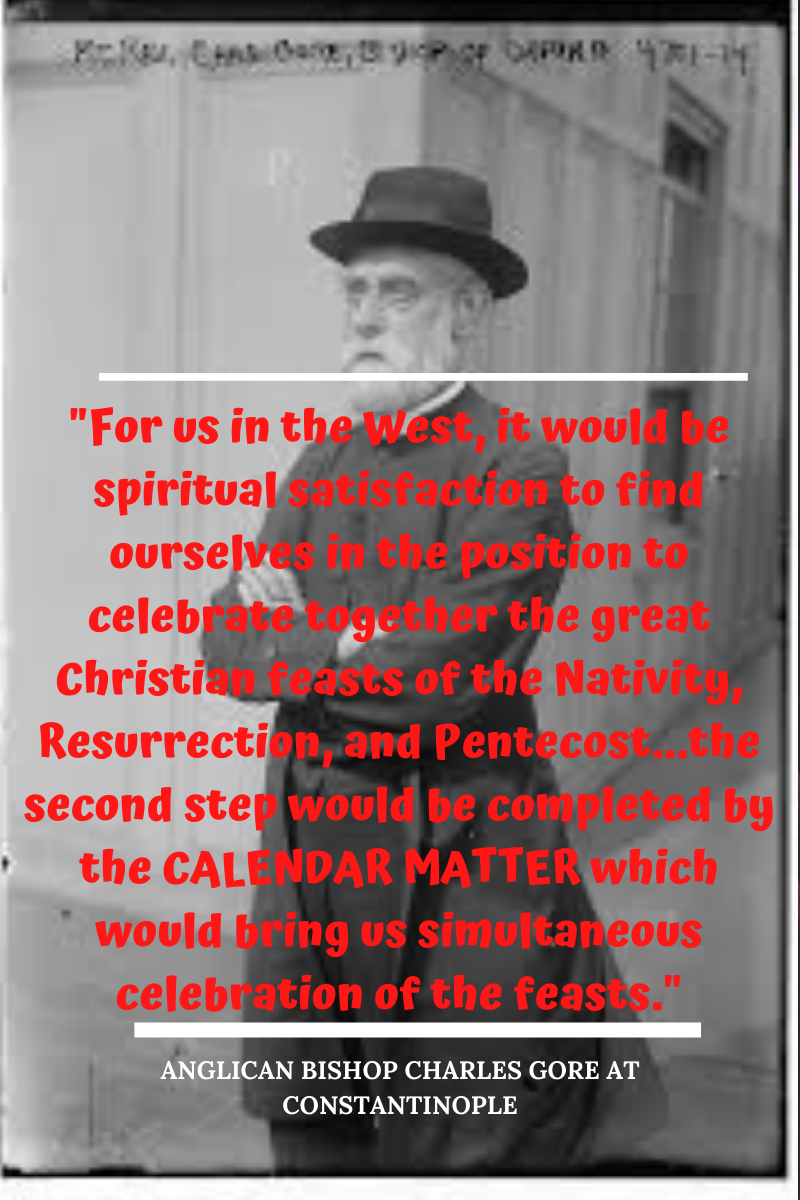 In 1923, a meeting was held under the presidency of "Patriarch" Meletios (Metaxakis) composed of six Bishops, two laymen, and an archimandrite, of a few of the local Churches (none of the members of the Pentarchy save Constantinople sent representatives). 
Metropolitan Anastasiy (later First-Hierarch of the Russian Orthodox Church Outside of Russia attended its initial meeting, having been in Constantinople. He was scandalized by the topics of the meeting and would never again attend any meeting of the Patriarchate of Constantinople. The purpose of the meeting was to implement the Encyclical of 1920, along with other proposals such as the elevation of married men to the Episcopate and the remarriage of widowed priests (sessions three and four). Representatives of the Anglican Church were present at the final meetings, specifically former Bishop Gore of Oxford. At these meetings, it was decided that nothing stood in the way of Orthodox-Anglican ecclesiastical union. In response, a five-member commission in Greece (one of whom was the then Archimandrite, later Archbishop of Athens, Chrysostom Papadopolous ) determined to study the question of the use of the New Calendar and found that "Not a single one of them [local Orthodox Churches] can separate from the others and adopt the New Calendar without becoming schismatic in relation to the others." (see Journal of the Government of the Greek Kingdom, chapter 1, 24/25. 1. 1923, No. 8).
At this meeting, retired Anglican Bishop of Oxford Charles Gore was present. He made the following statement: