Bartholomew of Constantinople and His "Synod" Decides on Second Marriages for Priests!
2 min read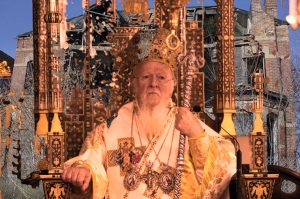 Guess what the "Holy Synod" of Constantinople decided again on its own?   To allow a second marriage to ordained priests!  This has always been prohibited in the Orthodox Church.  They have even gone so far as allowing divorced priests to remarry and continue to serve as priests as long as the case was that the priest's wife was the one who abandoned him.
We read the article this morning on a Greek language religious site romfea.gr.  This decision is called historic.  Yes, it is historic as it overturns the 2000 year history of the Orthodox Church.
The Canons of the Holy Apostles even prohibit "lighter" impediments to the priesthood.
Once someone is ordained he cannot marry.  This is clear from
Canon XXVI. (XXVII.) of the Holy Apostles which says, "Of those who have been admitted to the clergy unmarried, we ordain, that the readers and singers only may, if they will, marry."
If only readers or singers can marry how much more so deacons and priests cannot.  And if they can't perform a first marriage as clergymen already, how much more can't they perform a second marriage?
Also the following Apostolic Canons speak about marriage and clergy.
Canon XVII.
He who has been twice married after baptism, or who has had a concubine, cannot become a bishop, presbyter, or deacon, or any other of the sacerdotal list.
Canon XVIII.
He who married a widow, or a divorced woman, or an harlot, or a servant-maid, or an actress, cannot be a bishop, presbyter, or deacon, or any other of the sacerdotal list.
Canon XIX.
He who has married two sisters, or a niece, cannot become a clergyman
The Tradition of our Church has always been absolute on this matter.
We advise people to accept the will of God.  What about the priest who either remains alone through becoming a widower or being deserted by his wife.  Shouldn't he see this as God's will and show patience or maybe God's will for him to stop serving?
The "Holy Synod" of the Ecumenical Patriarchate went on to say that the wedding service of a priest 's second marriage will be different and like a simple prayer and refined to a family circle.