A VERY SHORT EXPOSITION OF THE LORD'S PRAYER
2 min read
OUR FATHER WHO ART IN THE HEAVENS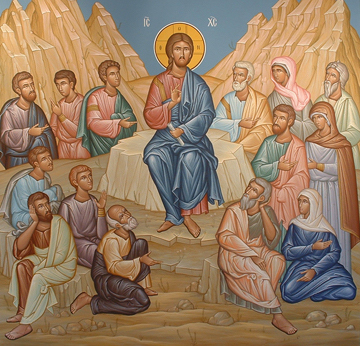 by Vladimir Moss
A VERY SHORT EXPOSITION OF THE LORD'S PRAYER
OUR FATHER WHO ART IN THE HEAVENS. We lift our eyes to heaven, not allowing ourselves to be distracted by anything on earth. To do otherwise would be to insult the one God and Master of all things, both in heaven and on earth.
HALLOWED BE THY NAME. The purpose of the Christian life is to glorify God. We glorify God by glorifying His Name, that is, His Son, the Lord Jesus Christ.
THY KINGDOM COME. In order to glorify the Father in the Son, we need the Holy Spirit. So we pray for the Coming of the Holy Spirit, the indwelling of God's Kingdom in us, without which it is impossible to please Him.
THY WILL BE DONE. We cannot receive and retain the Holy Spirit unless we do the Will of God in all things. May God give us the Grace to unite our will with His.
ON EARTH AS IT IS IN HEAVEN. We pray that we may do the Will of God on earth in the same way as it is done in Heaven by the Angels and Saints.
GIVE US THIS DAY OUR DAILY BREAD. We carry out the Will of God in our souls and our bodies. But our bodies need both material food and the Bread of heaven in order to carry out His Will.
AND FORGIVE US OUR DEBTS. The main obstacle to doing the Will of God is our sins. We therefore pray the Father to remit them through the Sacrifice of His Son, Jesus Christ.
AS WE FORGIVE OUR DEBTORS. The main obstacle to our receiving the remission of our sins is our hatred of our neighbour. We therefore pray for the removal of all hatred from our hearts.
AND LEAD US NOT INTO TEMPTATION. May God not allow us to fall into situations that are above our strength, so that we sin a sin unto death and fall away from His Grace.
BUT DELIVER US FROM THE EVIL ONE. If we fall away from God's Grace, we fall into the hands of the devil. May God deliver us from this, the worst of all evils.
AMEN.