What Should I be Pondering Now?
6 min read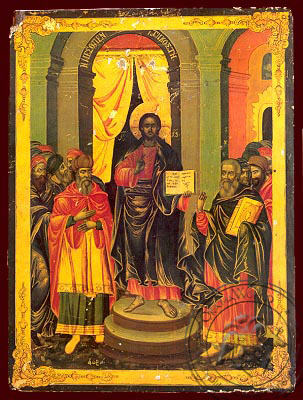 During These Bright Days, We Should Ponder Our Savior More,
Learn About Him"
Sermon by Archbishop Seraphim (Ivanov) on Mid-Pentecost
Today, Wednesday, is known as Mid-Pentecost, that is, the halfway point of Paschal celebrations, which last for 40 days before the Ascension of the Lord, and Pentecost.
The Paschal light shines for a long time for Christians who desire to be illumined with it. During these bright days, we should ponder our Savior more, learn about Him. Of course, the Gospel and Epistles reveal the most important things about our Lord Jesus Christ. Almost every one of us owns this holy book, but most of us rarely open it. Am I right? You've already read it once, we know all about what's in the New Testament. But this isn't true, for people who live spiritual lives have learned that the more you read Scripture, the more Divine mysteries are revealed to us.
But this book only includes a portion of what our Savior said during His earthly life. This is clearly stated by John the Theologian at the end of his Gospel, "And there are also many other things which Jesus did, the which, if they should be written every one, I suppose that even the world itself could not contain the books that should be written. Amen."
And so, lovers of the Words of God have often sought to find the works and words of Christ our Savior from all available resources. Such collections are known as the Agrapha, which in Greek means "unwritten." Recently I came across one of these collections, published in Poland in 1938. It is a very interesting read, and I want to share some things with you.
First of all I must say that one shouldn't doubt the authenticity of the words spoken by Christ which were not recorded in Holy Scripture. They are not from the Apocrypha, that is, those things that the Holy Church does not recognize as having been said by Christ Jesus, but things recorded by the Holy Fathers from Holy Tradition of the first centuries of Christianity.
There are many words of Christ not recorded in the Gospels, but are found in the Acts of the Holy Apostles, recorded by Holy Evangelist Luke and the Epistles of Holy Apostle Paul. For instance, "It is more blessed to give than to receive" (Acts 20:35).
These words of Christ are also almost universally known: "Let not the sun go down upon your wrath" (Ephesians 4:26). Such utterances are many, but I will not continue to quote them but direct you to the books of the New Testament.
I want to point out a few remarkable citations, the authenticity of which are attested to by the Apostles. We often hear in sermons and during conversations on spiritual matters: "In whatsoever I shall find you, in the same I will also judge you." These words are not found in the New Testament, but the Church recognizes them as genuine words of Christ. They were preserved for posterity by St Justin the Philosopher in his Dialogue With Trypho.
Another excerpt from the appearance of Christ to his brother James, preserved for us by St Jerome, the renowned translator of Holy Scripture from Greek to Latin, called the Vulgate.
In the New Testament, St Paul writes to the Corinthians (15:7): "After that, he was seen of James; then of all the apostles."
This is what St Jerome writes based on ancient manuscripts he found: "The Lord went to James and appeared to him. For James had vowed that he would not eat bread from the moment that he drank the Chalice of the Lord, until he sees Him risen from the dead." The Lord said: "Bring a table and bread." He took bread and blessed it, and broke it, and gave it to James the Just and said to him, "My brother, eat your bread, for the Son of Man has risen from sleep."
What a wonderful complement to the words of St Paul!
Holy Apostle Barnabas of the 70 recalls these remarkable words of Christ, which the Church considers authentic: "They who wish to see me and to lay hold on my kingdom must receive me by affliction and suffering."
St Clement of Alexandria, as well as Origen, offer the following as genuine words spoken by Christ: "Ask great things, and the small shall be added to you: ask heavenly things, and there shall be added unto you earthly things."
Of course, this is a paraphrase of the words of the great Evangelist, "But seek ye first the kingdom of God, and his righteousness; and all these things shall be added unto you» (Matthew 6:33), but what an interesting variation!
The Logia discovered in Egypt in 1897 are considered by theologians to be a proto-Gospel, and they contain the following words of consolation by Christ: "He who is alone, there too am I." This remarkable utterance was recorded in the works of St Ephraim of Syria.
Here is an interesting elaboration of the story of the wealthy young man recorded in Matthew, Mark and Luke:
"Hearing the words of Christ to sell his estate and distribute the money to the poor, the young man began to scratch his head, for these words did not please him" And the Lord responded "You say that you preserved the law and the Prophets, for it is written in the law: 'Love thy neighbor as thyself,' and yet many of your brethren, sons of Abraham, are in filth and dying of starvation, yet your house is filled with abundance, and they have nothing of it." And turning to Simon, His disciple, who sat near Him, He said 'Simon, son of Jonah, it is easier for a camel to pass through the eye of a needle than for a wealthy man to enter the Kingdom of Heaven."
This agrapha is from the ancient apocryphal Gospel of the Hebrews, a part of the text of which are considered genuine words of Jesus Christ, including this passage. In this case, the clarity, the directness and the power of this story speak for themselves.
Another interesting agrapha from the same source:
Saith the Lord "be as sheep among wolves" (Matthew 10:10). "Peter, interrupting, said to Him: 'But if the wolves devour the sheep? Jesus said to Peter: 'The sheep must not fear the wolves, who can do nothing but slay them, and you will not fear those who kill you but can do no more, but fear those who have power over your souls and bodies, and who, killing you, will cast you into the Hades of fire."
What an interesting variant of the words of Christ about the sheep and the wolves!
These words of Christ are recorded in The Teachings of the Holy Apostles, a work of the first century.
"Woe unto those who are filled, and hypocritically take more, or can help themselves but take from others, for each will answer to the Lord God on the day of judgment."
Indeed, every one of us will answer to the Lord on Judgment Day, especially those of us who have plenty and yet, like hypocrites, take more from others!
It would be useful for our wealthy American politicians who expend large sums to attain power, instead of using their wealth for God-pleasing charity. But this concerns each one of us, too, who accumulate wealth for ourselves, expending a great deal of time to do so, and ignore the virtues that please God.
Let us conclude with one more agrapha from St Clement, the fourth Bishop of Rome (91-100): "Even if you were all gathered in My bosom, but did not fulfill My commandments, I will cast you out and say 'Begone from Me, I know you not, or whence you come, evil-doers!'"
We should all ponder these terrifying words of Christ, and examine our conscience—do these words apply to us as well?