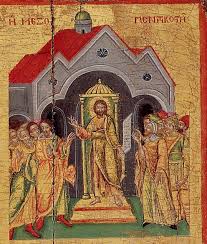 A Sermon of St. Philaret the Confessor of New York during the Week of Mid-Pentecost
We all know that beginning Wednesday of this past week, the Church began to sing the meaningful and touching troparion of the feast of Mid-Pentecost, in which is said: "At Mid-feast give Thou my thirsty soul to drink of the waters of piety." This appeal to the Christian soul is understandable to everyone, especially, of course, in our terrible time, when we hear not about the "waters of piety," but rather about the waves of impiety pouring more and moreover the entire world and over the entire human race. The Christian soul, under the pressure of this impiety, prays that the Lord would water it, thirsty, with the waters of piety. The answer to this appeal comes in the Gospel we heard today at the Liturgy, in which the Lord as if coming out to meet the soul calling out to Him in the troparion, says: Come unto Me, all ye that labor and are heavy laden, and I will give you rest [Mt 11:28]. You also know another moving passage in the Gospel, in which the Lord says: Take My yoke upon you, and learn of Me, for I am meek and lowly in heart: and ye shall find rest unto your souls. For My yoke is easy, and My burden is light [Mt 11:29].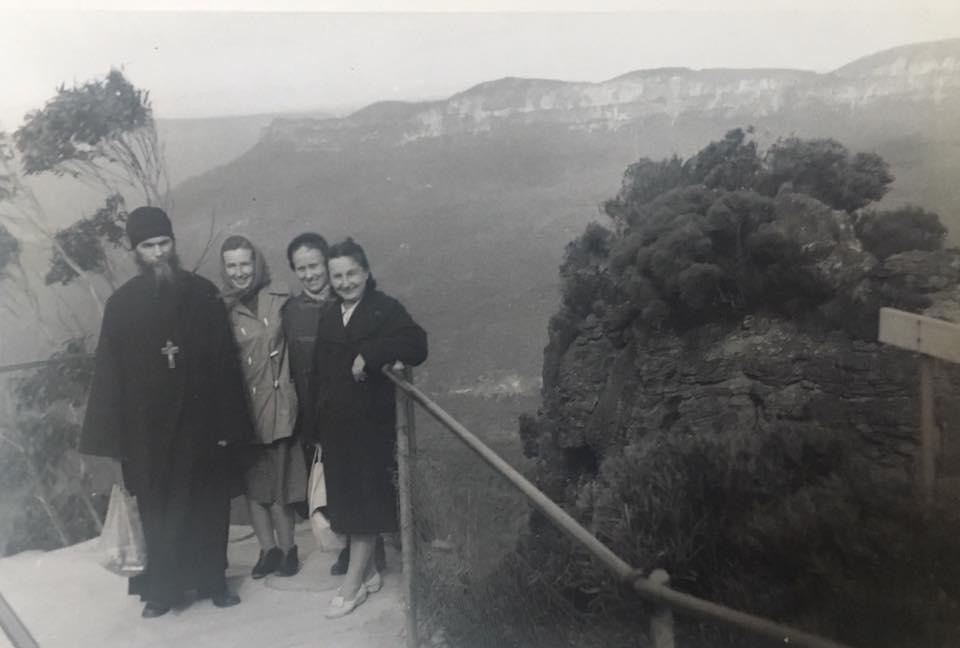 An apostle said once that the Lord's commandments are not grievous [1 Jn 5:3]. Here the Lord calls us to learn from Him, for He is meek and lowly of heart. If we learned this meekness and humility from Him, we would immediately find rest for our souls. Here is our present life, with its vanity and defilement, with all its hardships and difficulties – is it some evil trick lying upon man, under which he suffocates and loses strength? The Lord says, in contradiction to this: My yoke is easy, and My burden is light, and not at all that terrible burden that the world, gone out of its mind, lays on its children. If only the children of this age would understand the Lord's appeal, that only the Lord can give rest to the soul and remove that burden that lays on it, then all of life would change quite wonderfully. But alas! We know both from the Gospel and from the works of the Holy Fathers that the darkness resting over mankind will continue to thicken and condense, and will grow darker yet. One only needs to remember that both the Gospel and the Holy Fathers have warned us that life will become worse and more difficult. Certain of them speak of some sort of subsequent improvement. But the great Elder Ambrose of Optina waned in advance that this darkness will thicken and thicken and that things will become more and more difficult for people. Finally, the era of the Antichrist will arrive, in which those who are truly faithful to God and the Church will endure such tribulations as no one has ever before known. At the same time, those who are faithful to the Lord will cry out that the Lord's yoke is easy, and His burden light. He who bows his head under this good yoke and this light burden of Christ will immediately feel that he is free, that the yoke of Christ does not choke him, that it does not make his life more difficult but, to the contrary, eases it. If only mankind, gone out of its mind, would, at last, understand this Evangelic appeal and turn to its Savior, Who calls them to Himself, and learn from Him, for He is meek and lowly of heart – then mankind would understand where in fact truth and light are, and where lies and falsehood are. But, I repeat, there is no hope that mankind will understand because the predictions of Holy Scripture and the Holy Fathers do not speak of this at all. But the Christian should not grow downcast in spirit. The Lord knows His faithful ones and protects them as the apple of His eye. Recall how approvingly the Lord, in the Apocalypse, speaks to the angel of the Church of Philadelphia, which can be taken as all those who are faithful to Him. He says: Because thou hast kept the word of My patience (His Divine word), I also will keep thee from the hour of temptation, which shall come upon all the world [Rev 3:10]. The Lord Jesus Christ, as we know all too well, never spoke an untruth: if this is what He said, this is what will be! It follows that our task must be to maintain fidelity to Him. If we will keep His the word of His patience, His Divine word, as holy, and fulfill it, then He will fulfill His Divine word and can save us from those afflictions, from those years of temptations that have already begun and which are still ongoing. Amen.