Venerable Confessor Seraphim (Zagorovsky), Hieromonk of Kharkov (†1943)
17 min read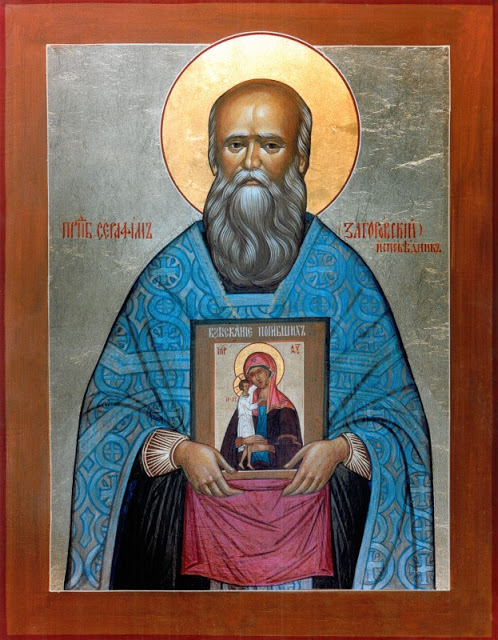 source: catacombhistory.blogspot.com
Father Nicholas was descended from an ancient family of princes who became poor and went over to the religious calling. His father, Deacon Michael Theoktistovich, lived in a border region of Akhtirka. He was a man of meek character, not of this world. Apart from Church, nothing existed for him. But on the other hand, his wife, Parasceva Andreevna, was a dominating woman. She had an exceptionally gifted mind and great talents. Left a widow very early, she brought up three children: Michael, Anna, and the youngest, Nicholas. Although the mother was illiterate, she understood the meaning of education and strove, by all means, to give an education to her children. The elder son, Michael, was very gifted, finished the seminary, entered the academy, but out of poverty he did not complete it and died early from tuberculosis. The younger son, Nicholas, grew up in the bosom of nature in the village of Gusynitsa together with peasant children. Young Kolya Zagorovsky was exceptionally lively, cheerful, and active. From his childhood, he loved folk songs and likewise his native Little Russian dialect.
After entering the seminary he began to write poetry. But he did not like to study, and he especially hated mathematics. Nonetheless, Nikolai was always among the best students in the seminary, being gifted with literary talent. In the previous classes, the teacher of Russian language organized plays. Through this, it was discovered in the young Zagorovsky an exceptional talent as a comedian. He had only to appear on the stage to evoke a storm of laughter in the public. The glory of Zagorovsky spread far beyond the seminary. A well-known actor-promoter in Ukraine offered him to become a member of his troupe, with an enviable salary. But his mother would not hear any of this: "I want to see you in gold vestments, otherwise I will curse you!" she declared to her son. He had to submit.
Father Nicholas' wife Ekaterina Ivanovna, was an educated woman, and they had two children (Vladimir and Lydia). The village where he was priest was called Malyzhino, a complete backwater. There Father Nicholas had no place to manifest his richly endowed nature. One can well imagine the difficulties which the young priest endured. The icon of the Mother of God which he so glorified was undoubtedly a witness of his bitter tears and suffering soul. Indeed, how could such a lively nature be reconciled to vegetating in such a dull and wild backwater? And how deep must have been the inward battle of this man to turn a comedian into a celebrated spiritual preacher and pastor of the people! But such a rebirth indeed occurred: brilliant secular talents were transformed into spiritual ones. It was an evident miracle. The icon of the Mother of God which was revered by Father Nicholas as wonderworking was not at all a copy of the ancient icon called the "Searcher of the Lost." But Father Nicholas gave it precisely this title! This leads one to think that the young priest had been on the verge of despair, and the Mother of God herself had placed him on the right path.
The people loved Father Nicholas, but when it came time to give the children an education, he moved to Kharkov and became the priest of the hospital church of the city. Here Father Nicholas continued, just as in the village, to serve akathists in front of the icon and to give sermons. He was not disturbed that in the beginning only one or two old women attended these services, although of course he could not but be sad to see the people absent. But this situation did not last long; very soon the church was full to overflowing. His fame, as of another Chrysostom, spread throughout Kharkov. The small hospital church began to become so crowded that the walls became wet from human breath. At the Liturgy, Father Nicholas would give two sermons, one of them devoted to the Gospel of the day. Someone once said, "Batiushka didn't speak long today, only an hour and a half." He left church hardly before three o'clock.
Under Father Nicholas, a special choir was formed with which he visited private homes to serve molebens. After the moleben, everyone ate and then sang "psalms' —religious songs. Many of these were written by Father Nicholas himself. I. M. Kontzevitch and another young man who was called Demochka sometimes accompanied Batiushka. 
Around Father Nicholas there began to gather a women's monastery. Its organization was going forward at full tempo and all preparations for it had been completed when the Revolution broke out. Thus the monastery was never officially opened, but it existed secretly. One of the future nuns was Ulyasha Nozdrina. She had been intending to marry but once she entered church when Father Nicholas was preaching. This decided her fate forever; she renounced her bridegroom and chose the monastic path. Father Nicholas chose Ulyasha as his companion when the time of banishment came.
Father Nicholas organized pilgrimages for the people, in one of which I. M. Kontzevitch took part. In this pilgrimage, several thousand people participated. They walked in groups; before each group, a cross, icons, and banners were carried. They walked while singing, but in such a way that the group following could not hear the singing of the group in front of it. Before the latter, another cross, icons, and banners were carried, and something else was being sung. There was a multitude of such processions. Not long before the end of the road, Father Nicholas got up on a raised place and spoke to the people. He said that they were going to pray for rain, for there was then a terrible drought.
When they came to the place, the people disposed themselves in the forest around the Kuryazhsky Monastery. Since the churches could not hold all the pilgrims, the All-night Vigil was served the whole night through on an elevated place in the forest. This whole time until dawn, hieromonks were giving confession to the people. When in the morning the Liturgy was served, the communicants received Communion out of all the chalices which were in the monastery. This took half a day. When the Communion was finished, Father Nicholas said: "Now we are going to serve a moleben for rain. Everyone fall down and pray to God until the heavenly tears begin to fall on the earth." The people fell to the ground. And suddenly in the clear sky clouds began to appear; and indeed, on the dusty earth there began to fall, like tears, great heavy drops of rain, raising the dust on the road… When the rain began the people were about to throw themselves on Father Nicholas, but the monks surrounded him and lead him to the monastery. Everyone went wherever they could for shelter. When everyone had found shelter, a tremendous torrent burst out.

After the meal, the bell-ringer came to Father Nicholas and asked: "Do you order to ring for assembling the people?" Father Nicholas reflected, bowing his head. Then he said: "Ring"! The rain continued to pour as out of a vessel… But no sooner had the bell sounded for the return trip than the rain immediately stopped. Returning home to Kharkov, the mass of people walked along the streets with branches in their hands and the enthusiastic singing of "Christ is risen!" The residents of the city opened their windows, struck with perplexity at the sight of such rejoicing in the moving mass of people.
Father Nicholas's popularity among the simple people was extraordinary. In Kharkov, after the Russo-Japanese War, there were especially many criminals. Bandits lived on Cold Mountain. But then one of them would become fatally ill. There were cases when Father Nicholas was sent for, and he would then be led at night along dark paths. His psalm-reader would tremble and shake from fear. In the cave where they were led stolen furs would be lying in the corner. But none of the thieves offended Father Nicholas. Only after the Revolution, a certain bandit-revolutionary tore off his gold cross.
While he was still living in Kharkov, from standing on his feet during his long services and prayers, Father Nicholas formed sores on his legs. But he joked about himself, saying that if his legs would not carry him, then he would have to carry them. In time Father Nicholas began to function as a starets with the blessing of the Optina Starets Father Anatole (Potapov).

The Revolution began. One can imagine that the mass of people who were grouped around Father Nicholas was not disposed in favor of the Revolution. Father Nicholas' influence was very great and widespread. Even at the very beginning, discounting all this, the Bolsheviks called Father Nicholas and offered him to enter with them into a certain agreement. From him there was demanded only one thing: not to give any sermons against the Communists. They even offered him a subsidy in gold for his charitable work. To this proposition, Father Nicholas replied that he served the One God and no one else. Soon he was arrested and placed in prison. It may be that Father Nicholas' arrest followed upon his defense, together with a crowd of people, of the monastery which served as the residence of the bishop of Kharkov—who at that time was Metropolitan Anthony Khrapovitsky*. As soon as the news of Father Nicholas' arrest had spread, the square in front of the prison was filled with peasant carts, full of country provisions. As long as Father Nicholas was kept in prison, all the prisoners were fed on the provisions brought to him.
Seeing such a great love of the people for Father Nicholas, the authorities decided that it would be calmer if he would be sent out of Kharkov. (He had been arrested another time as one of a group of 24 priests who had rejected the "Renovationist" church.) It was proposed to him to leave the city and go somewhere else. Father Nicholas, taking Ulyasha with him, went to Petersburg. Many nuns wanted to accompany him, but his choice wisely rested on Ulyastia—first of all because of her unlimited dedication and strong health. Jesting, he would say to her: "You haven't got a head but a pot." True, she did not understand a great deal, but she was devoted not in words but in deed. Who could have borne all that she bore?!
And so Father Nicholas and Ulyasha found themselves in Petersburg. This was the time just after the so-called "Living Church" appeared. Walking about the city, Father Nicholas and Ulyasha went everywhere, avoiding the churches of the "Living Church". Once they entered a church which was near their residence. Here a possessed woman angrily threw herself at Father Nicholas with a scream: "Oh, you baldy, oh, you whiner—have you come here too to torture us?" The people who were standing around did not know what to think, looking at the humble figure of Father Nicholas, who was dressed in a simple peasant garment. But soon the people felt that it was not at all an ordinary man they were looking at, despite the fact that the exiles strove to stay in the shadows. Here is an example: One day Father Nicholas was in bed sick. The bell rang. Ulyasha opened the door and saw some gypsies standing at the threshold. "Does the Father live here that tells fortunes?" they asked. "No,'' replied Ulyasha. "But they gave us this address: 46 Borovaya Street,'' said the gypsies. "Tell the Father that they have stolen a horse from us.'' Ulyasha went to Father Nicholas and said: "Some gypsies have come but you can't receive them. Someone's stolen a horse from them. If you receive them, we're lost. We can't receive anyone." ''All right," said Father Nicholas, ''we can't receive them; but all the same, tell them to look for the horse at their neighbor's." A few days later the gypsies again appeared, but now with sacks full of provisions. They had found the horse at their neighbor's.
Here is another incident. Father Nicholas never went anywhere, only to church. Suddenly a woman came and begged him to give the Sacraments to a dying woman. Against all his rules, Father Nicholas got ready and went, taking with him the revered icon of the Mother of God, "Searcher of the Lost." In a garret on a bed, a young woman lay unconscious. Out of her mouth there flowed a bloody foam. Two children were weeping bitterly. "Children," said Father Nicholas, "pray to the Mother of God—She will hear the prayer of children.'' He began a moleben with an akathist before the icon he had brought. Tears flowed in streams down the face of Father Nicholas; he was literally drenched with tears. After the moleben he was told: "But Batiushka, you haven't read the prayers for the departure of the soul!" 'It isn't necessary," he replied. Soon the grateful children came to Father Nicholas and brought him flowers and an embroidered belt such as the clergy used to wear in Russia. After this, the healed woman herself came. Although she had been unconscious during the moleben, nonetheless she had felt how a living power had poured into her. She became a devoted spiritual daughter of Father Nicholas for as long as he lived in Petersburg.
Here is another memorable case of Father Nicholas' clairvoyance. Father Nicholas and Ulyasha had to look for a new apartment because a great many people had begun to come to them. They found a fine place. Ulyasha was encouraged and said happily: "How wonderful! Here, Batiushka, we'll put your bed, and here the table.'' But Father Nicholas stood pale and said nothing. Finally, he turned to the landlady: ''Tell us what happened here.'' It turned out that an agent of the secret police had hanged himself there. Of course, they didn't rent this place.
In 1930 Father Nicholas was arrested for refusing to accept the ''Declaration'' of Metropolitan Sergius and was imprisoned in the ''House of Preliminary Confinement" in Petersburg. His stay in Petersburg ended on the famous "Holy Night", as it was called by the believers of Petersburg, when in a single night in 1932 five thousand of the most devoted people to the Church were arrested.

The prison where Father Nicholas was confined was so overcrowded that the unfortunate priest of God stood on his feet for nine days until one of the criminals felt sorry for him and gave him a place under a table where he could lie down on the floor. After this Father Nicholas was sent to Solovki. His Matushka, accompanied by the faithful Ulyasha, undertook the long journey in order to visit him. When they both arrived and were allowed to see him, he came out to them shaved and emaciated. This was during a fast—but in giving provisions to the prisoners it was absolutely required that they be of meat, Ulyasha prepared cutlets out of lentils which the jailors took for meat.
After his stay in Solovki, Father Nicholas, together with other prisoners, was sent to the far north for settlement. They went by foot over the tundra, stepping from hillock to hillock. Mosquitoes tortured them. In one place the travelers spent the night in an abandoned chapel. Awakening, Father Nicholas saw that he was sleeping before the icon "Searcher of the Lost.'' This encouraged him inexpressibly, and he felt that he was under the protection of the Queen of Heaven. He alone made it all the way to the assigned place: the rest had not survived but died on the way.
Ulyasha, devoted as always, did not leave Father Nicholas here either. She came to him alone in a wagon, carrying a basket with provisions. She traveled thousands of miles. The way went across the taiga. Often she was struck by the spectacle of the northern lights shimmering in the sky. God Himself preserved her, and she arrived safely. Father Nicholas was watched by guards. Ulyasba did not lose heart. She would call the soldiers ''Detka'' or ''Vanka," slap them on the back, and remind them of their own mothers. ''This is my uncle,'' she told them; "he took me in when I was an orphan and raised me. You have a mother too—Remember her. Let me go and eat with my uncle!" Permission was given, and Father Nicholas went to eat with Ulyasha.
Finally, Father Nicholas served out his time of punishment. He was released to live wherever he wanted, except in Kharkov province. Looking at a map, he saw that the nearest city to Kharkov was Oboyan in Kursk province. And so they went on a train and were already approaching their goal. They were telling each other that once they got out of the train they had no idea what to do. Their conversation was overheard by a simply dressed woman who was traveling with them: she turned out to be the wife of a banished priest to whom she was traveling for a visit. Looking closely, she recognized in Father Nicholas' face the face of a priest. She informed her fellow-travelers that in Oboyan there was a secret convent. She gave them the address. The travelers went there and rang, The nun-gatekeeper opened the door for them. Finding out that they were asking shelter for the night, the nun categorically declared to them that this was impossible; they themselves were hiding, and if they began to allow outsiders in it would immediately attract attention to them. ''All the same, tell the Abbess about us," Father Nicholas requested. The Abbess didn't let them wait for her, but quickly came out
and in a friendly manner invited them to share a meal with the nuns. And what had happened? In the night of their arrival Saint Seraphim had appeared to the Abbess in sleep and said: "Seraphim of Kharkov is coming to you; receive him." Batiushka burst into tears and said: "I am Father Nicholas." But in actuality he had been tonsured in Solovki and called Seraphim. He did not expect that he would return to the world and that his life would be prolonged, and he had accepted secret monasticism. At this time Ulyasha did not know this, but later when living in Oboyan, while Father Nicholas was serving the Liturgy she heard him when receiving Communion call himself Hieromonk Seraphim.
It did not take long for them to find an apartment in Oboyan. Father Nicholas never went out in the daytime. Only late at night, he went outside to breathe some fresh air. He served Liturgy every day. The Proskomedia with an endless commemoration of the living and the dead lasted for hours. Sometimes his Kharkov nuns would come to him at night, and thus he guided their secret monastery. 
Ulyasha lived in Oboyan in complete obedience to Father Nicholas. She was tonsured a nun by him and called Magdalena. She found work in a hospital as an orderly. Unexpectedly there came a decree: everyone who was semi-literate was obliged to take an examination according to the ten-year program, or else they would be fired. Father Nicholas began to give lessons to Ulyasha. He wrote a composition with the title "Morning in the Village" and told Ulyasha to take it with her to the written examination and copy it out when the theme was announced. The theme which was given was, in fact, "Morning in the Village." For the oral examination, Father Nicholas recommended that Ulyasha learn by heart a certain poem. "When they ask who knows it, raise your hand." And in fact, they asked about this poem, and Ulyasha was the only one who knew it by heart. With mathematics, it was more complicated, as Father Nicholas himself was very bad at mathematics. He opened a textbook of algebra and showed a page which Ulyasha was supposed to memorize. On the examination, they asked about this very page. Ulyasha passed the ten-year plan and from an orderly she became a nurse.
The second world war came. From the hospital in Oboyan a group of medical personnel was sent to the front, and Ulyasha was a part of it. Father Nicholas was to remain alone—old, sick, unfit for work, tortured by prisons and banishment… At the railroad platform the seating of the medical personnel took place. Everyone was called by name and placed on the train. Only Ulyasha was not called. The train left…. Ulyasha hastened home. And what did she see? Father Nicholas was standing at prayer. The rug on which he was standing was all wet from tears.
The city of Oboyan was taken by the Germans. Soldiers were placed in houses. The little house where Father Nicholas was staying was also seized. He was offered to sleep on the floor. However, the German soldiers were so struck by the appearance of this Elder, who remained constantly at prayer, that they not only did not take his bed but even took off their shoes when they entered his room so as not to disturb him at prayer.
Soon he was taken home to Kharkov in a hospital car. Here Father Nicholas performed Divine Services in his house with a great number of people present. The war was coming to an end. The German retreat began. Father Nicholas decided to go to the West, for, as he said, he had no strength to face the Bolsheviks again. When he crossed the boundary of his fatherland he wept bitterly. But the heavenly fatherland was already awaiting him His life was cut off when he arrived in Peremyshi. He had a stroke. He was placed in a hospital, where he lived several days. He died on the eve of the Feast of the Protection of the Most Holy Mother of God, September 30 (October 13), 1943.
Everything happened exactly as he had described his own death in a poem written twenty years before this while he was in Petersburg, at the very beginning of the Revolution.
In this poem are described the last warm days of early autumn. The flowers have finished blossoming The autumn leaves are falling to the ground Dying nature faintly smiles, and together with her, the sacred poet himself finishes his earthly days. Just as he described, so did it all happen in actuality; precisely such an autumn set in. Father Nicholas, who was not distinguished by any particular beauty in life, became more than handsome on his deathbed. His face bore the imprint of another world, of a beauty inexpressible in words. As it were a door was opened into the desired other land, where "the just shine like the stars.''  
*Archbishop Anthony (Khrapovitsky), who was at that time in Kharkov as the ruling bishop, had a special spiritual influence on Fr. Nicolas. It was then Fr. Nicolas also met the future Saint John (Maximovich) of Shanghai and San Francisco. This is how Fr. Nicholas' spiritual daughter, Nun Magdalena, recalls his meetings with Vladyka Anthony (Khrapovitsky) and the future Saint John of Shanghai, who also came from the Kharkov province. "Then he (Maximovich) was a student, and every day he came to Metropolitan Anthony (Khrapovitsky). There, in the Intercession Cathedral, were the relics of St. Meletius (Leontovich), and they wanted to update everything there. Metropolitan Anthony blessed our Fr. Nicolas to do this… Vladyka John was then a student, and his name was Misha… When Father arrived, Misha quickly ran out to receive a blessing from him before going to class, and Fr. Nikolai said to him: "Misha, don't miss Batiushka (meaning Anthony Khrapovitsky)! You will surely become a bishop and a Saint". Misha Maximovich then smiled in response and said, "It is you, Father Nikolai, who will become a Saint". "And so," continues Mother Magdalene, "Vladyka John – both the bishop and Saint, they will soon glorify. And my Batiushka is also a Saint".
In 1981, Hieromonk Seraphim (Zagorovsky) was solemnly glorified in the face of the Holy New Martyrs and Confessors of the Russian Church at the ROCOR Council of Bishops.