Two Things You Must Do to Free Yourselves from the Deadly Itinerary of the Ecumenists!
6 min read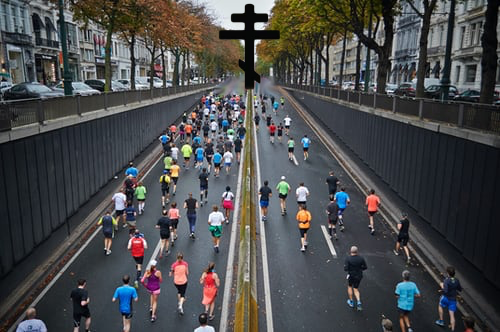 by Bishop Philaretos
St. Paul writes to the Philippians
"Brethren, I count not myself yet to have apprehended: but one thing I do, forgetting the things which are behind, and stretching forward to the things which are before, I press on toward the goal unto the prize of the high calling of God in Christ Jesus."
Many members of "Ecumenist Orthodox Churches" are wondering where their leaders are really taking them. We are times like the Apocalypse describes when it says that mountains and islands shall be moved (Apocalypse 6:14). The Fathers interpreted these mountains as civil and spiritual leaders and the islands as local churches. They won't remain steadfast.
St. John Chrysostom sums up how we should look to the past and move on to the future when he says,
Nothing so renders our real excellences vain and puffs them away, as to be remembering the good deeds we have done; for this produces two evils, it both renders us remiss, and raises us to haughtiness. Wherefore see how Paul, since he knew our nature to be easily inclined to remissness, though he had given great praise to the Philippians, now subdues their mind by many other things above, but chiefly by his present words. And what are they? "Brethren, I count not myself [660] to have apprehended." But if Paul had not as yet apprehended, and is not confident about the Resurrection and things to come, hardly should they be so, who have not attained the smallest proportion of his excellence. That is, I consider that I have not as yet apprehended all virtue, as if one were speaking of a runner. Not as yet, saith he, have I completed all. And if in another place he saith, "I have fought the good fight" (2 Timothy 4:7.), but here, "I count myself not as yet to have apprehended"; any one who reads carefully will well know the reason both of those, and of the present words; (for it is not necessary to dwell continually on the same point;) and that he spoke these words at a much earlier date, but the others near his death. But I am solely engaged on "one thing," says he, "in stretching forward to the things which are before." But "one thing," says he, "forgetting the things which are behind, and stretching forward to the things which are before, I press on toward the goal unto the prize of the high calling of God in Christ Jesus." For what made him reach forward unto the things which are before, was his forgetting the things that are behind. He then, who thinks that all is accomplished, and that nothing is wanting to him for the perfecting of virtue, may cease running, as having apprehended all. But he who thinks that he is still distant from the goal, will never cease running. This then we should always consider, even though we have wrought ten thousand good deeds; for if Paul, after ten thousand deaths, after so many dangers, considered this, how much more should we? For I fainted not, saith he, although I availed not, after running so much; nor did I despair, but I still run, I still strive. This thing only I consider, that I may in truth advance. Thus too we should act, we should forget our successes, and throw them behind us. For the runner reckons not up how many circuits he hath finished, but how many are left. We too should reckon up, not how far we are advanced in virtue, but how much remains for us. For what doth that which is finished profit us, when that which is deficient is not added? Moreover he did not say, I do not reckon up, but I do not even remember. For we thus become eager, when we apply all diligence to what is left, when we give to oblivion everything else. "Stretching forward," saith he; before we arrive, we strive to obtain. For he that stretches forward is one who, though his feet are running, endeavors to outstrip them with the rest of his body, stretching himself towards the front, and reaching out his hands, that he may accomplish somewhat more of the course. And this comes from great eagerness, from much warmth; thus the runner should run with great earnestness, with so great eagerness, without relaxation. As far as one who so runs differs from him who lies supine, so far doth Paul differ from us. He died daily, he was approved daily, there was no season, there was no time in which his course advanced not. He wished not to take, but to snatch the prize; for in this way we may take it. He who giveth the prize standeth on high, the prize is laid up on high.
See how great a distance this is that must be run over! See how great an ascent! Thither we must fly up with the wings of the Spirit, otherwise it is impossible to surmount this height. Thither must we go with the body, for it is allowed. "For our citizenship is in heaven" (Philip. iii. 20.), there is the prize; seest thou the runners, how they live by rule, how they touch nothing that relaxes their strength, how they exercise themselves every day in the pal?stra, under a master, and by rule? Imitate them, or rather exhibit even greater eagerness, for the prizes are not equal: many are those who would hinder you; live by rule: many are the things which relax your strength; make its feet [661] agile: for it is possible so to do, it comes not naturally, but by our will. Let us bring it to lightness, lest our swiftness of foot be hindered by the weight of other things. Teach thy feet to be sure, for there are many slippery places, and if thou fallest, straightway thou losest much. But yet if thou fall, rise up again. Even thus mayst thou obtain the victory. Never attempt slippery things, and thou wilt not fall; walk upon firm ground, up with thy head, up with thine eyes; these commands the trainers give to those who run. Thus thy strength is supported; but if thou stoopest downward, thou fallest, thou art relaxed. Look upward, where the prize is; the sight of the prize increaseth the determination of our will. The hope of taking it suffereth not to perceive the toils, it maketh the distance appear short. And what is this prize? No palm branch; but what? The kingdom of heaven, everlasting rest, glory together with Christ, the inheritance, brotherhood, ten thousand good things, which it is impossible to name. It is impossible to describe the beauty of that prize; he who hath it alone knoweth it, and he who is about to receive it. It is not of gold, it is not set with jewels, it is far more precious. Gold is mire, in comparison with that prize, precious stones are mere bricks in comparison with its beauty. If thou hast this, and takest thy departure to heaven, thou wilt be able to walk there with great honor; the angels will reverence thee, when thou bearest this prize, with much confidence wilt thou approach them all. "In Christ Jesus." See the humility of his mind; this I do, saith he, "in Christ Jesus," for it is impossible without an impulse from Him to pass over so vast an interval: we have need of much aid, of a mighty alliance; He hath willed that thou shouldest struggle below, on high He crowns thee. Not as in this world; the crown is not here, where the contest is; but the crown is in that bright place. See ye not, even here, that the most honored of the wrestlers and charioteers are not crowned in the course below, but the king calls them up, and crowns them there? Thus too is it here, in heaven thou receivest the prize.
In forgetting what we thought we possessed, we can really move on to progress spiritually. So then we must
forget the things which are behind, and
stretch forward to the things which are before