The First Celebration of Orthodox Christmas in Greece after the Calendar Schism. From the Memory Lane of Andreas Vaporidis of Blessed Memory, First President of the "Society of the Orthodox"
2 min read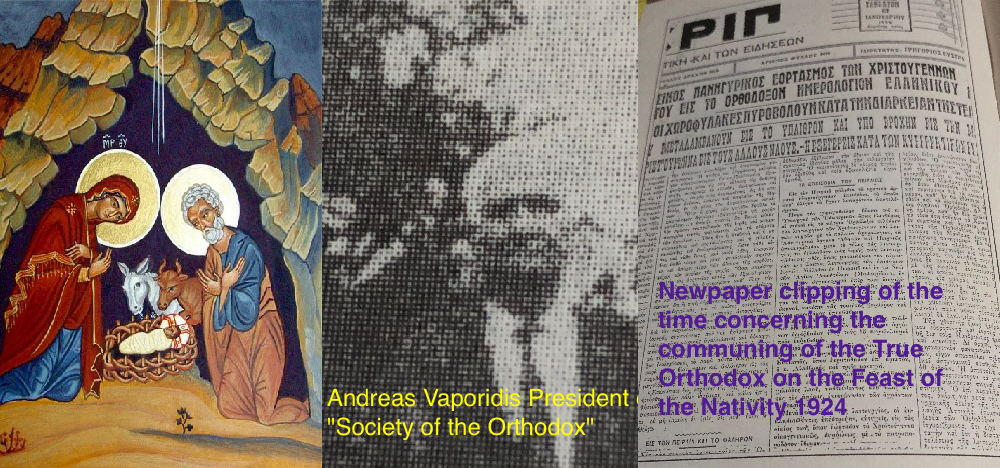 The celebration of the Nativity of Christ in 1924 for the True Orthodox Christians of Greece was one full of agony during that time of persecution. Just 9 months after the innovators of the Church of Greece changed their calendar, the faithful were still at a loss as to how to celebrate Orthodox feasts.
In the days before the feast, the board of directors of the "Society of the Orthodox" met every day in order to plan how the Orthodox would celebrate Orthodox Nativity during this first year of persecution by the state Church. It was decided that the feast of the Nativity of Christ of 1924 in Athens would be celebrated at the wayside chapel of St. Therapon in Goudi outside of Athens.
More than 3000 True Orthodox Christians gathered in the dark of night to secretly celebrate the birth of Christ. Sometime after midnight, as Matins was being chanted and Hieromonk Parthenius (Skourlis, from the Skete of Iveron and later Metropolitan of the Cyclades GOC) was performing proskomedia, a unit of police and army arrived at the chapel in order to disband the faithful and arrest the priest. The commander, in order to instill fear, stated that in need they wouldn't hesitate to use their weapons.
None of the faithful changed their stance or left. The chanters continued to hymn Christ born in the flesh. The noble servant of the Most High continued to commemorate the names of the living and the dead.
The commander of the forces left, and after about an hour he returned announcing the new decision that the vigil could continue if they would celebrate the feast of the Synaxis of the Holy Forerunner (the feast by the papist calendar) but not if they continued to celebrate the Nativity of our Lord.
The voices of the faithful responded, "We have the Nativity of the Lord today like Jerusalem. The Latins celebrate the Forerunner today!"
Then the commander threatened the priest with arrest. Fr. Parthenius responded that only by dragging him from the altar with his vestments on and the holy lance in hand would he be removed from the church.
The gathered faithful then moved forward to protect the priest. The commander left and the liturgy of the first feast of the Nativity after the schism was served with compunction and the Orthodox were able to partake of the Holy Mysteries.
Two hours before the sun came up the faithful, as new magi, wished each other "Many Years!" and "Next year free!" and returned to their homes.