St. Hubertus of Liège – Commemorated November 3
2 min read
St. Hubertus of Liège or Maastricht', called the "Apostle of the Ardennes", was the first Bishop of Liège. His feast day on November 3.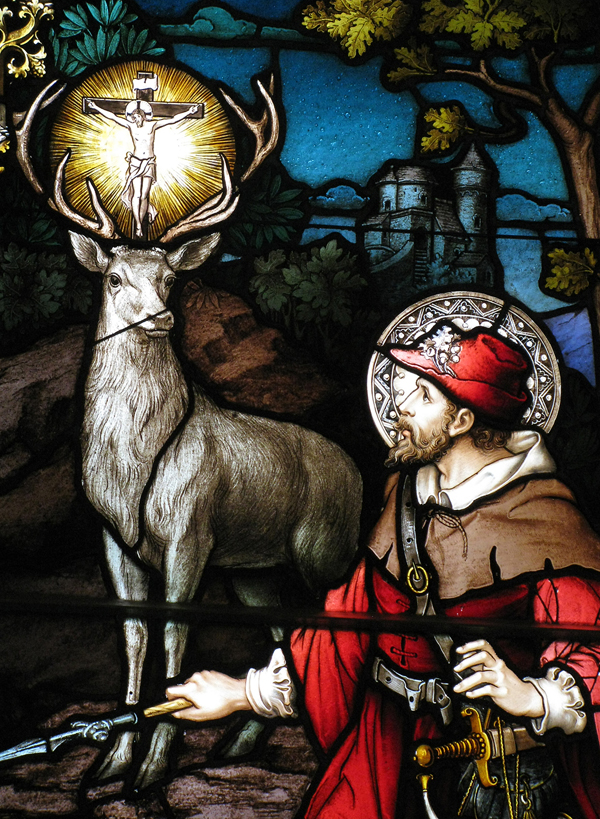 St. Hubertus of Liège or Maastricht', called the "Apostle of the Ardennes", was the first Bishop of Liège. His feast day on November 3.
In 682, Hubert married Floribanne, the daughter of Dagobert, Count of Leuven. Floribanne, however, died giving birth to their son Floribert, who later also became bishop of Liège. With the death of his wife, Hubert left the court and withdrew into the Ardennes forest. There, he gave himself up entirely to hunting. While hunting on a Good Friday morning, when the faithful were at church, Hubert pursued a magnificent stag that turned to face him. Hubert was astounded at seeing a crucifix standing between its antlers and heard a voice saying, "Hubert, unless you turn to the Lord, and lead a holy life, you shall quickly go down to hell". Hubert dismounted, prostrated himself, and said, "Lord, what would You have me do?" Whereupon he received the answer, "Go and seek Lambert, and he will instruct you."
Hubert, then, set out for Maastricht, to the see of Bishop Lambert. He now renounced all his honors, surrendered his birthright to the Aquitaine to his younger brother Odo, whom he also made guardian of his infant son, Floribert, and distributed all his personal wealth among the poor. Hubert was ordained to the priesthood.
While on a pilgrimage to Rome in 708, a trip made at the advice of Bishop Lambert, his mentor was assassinated. Then, according to the hagiographies of St. Hubert, this crime was also revealed to the pope in a vision, together with an injunction to appoint Hubert bishop of Maastricht.
As bishop, Hubert distributed his revenues among the poor, was diligent in fasting and prayer and became famous for his sermons. In 720, in obedience to a vision, Hubert, with great ceremony, translated Lambert's relics from Maastricht to Liège, assisted by several neighboring bishops. and the see was transferred from Maastricht to Liège.
His evangelization of the pagans in the Ardennes forests and in the area of Toxandria, that now in part of Netherlands and Belgium, brought him the title of Apostle of the Ardennes.
Having predicted the date of his own falling asleep in the Lord, Bishop Hubert died peacefully in Fura, Brabant on May 30, 727, and was buried in the church of St. Peter in Liège. In 825, his relics were translated to the Abbey of Amdain, present-day Saint-Hubert, in the Ardennes. However, during the Protestant Reformation, his coffin disappeared. His feast day of November 3 is probably the date of the translation of his relics to Amdain.