St. Hieria – 3 June
2 min read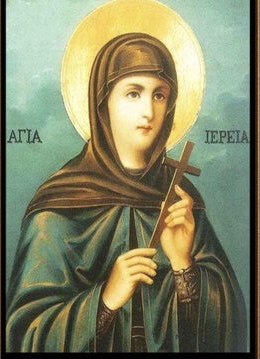 The Nun Hieria was born into a pagan family and became the wife of a Roman senator, but after a mere 7 months was widowed. While in the Assyrian city of Seuapolis, she learned that in the vicinity of the city of Niziba there was a women's monastery, in which asceticised the young Monastic Febronia, distinguished for her particularly strict life. Under the guise of a wanderer, Hieria visited her and conversed with her all night, being instructed in the Christian faith, and then having returned home, she was baptised and persuaded her parents to do likewise.
      During the time of the persecution by Diocletian (284-305), the majority of the inhabitants of the Niziba monastery left and hid away from the persecutors, but Saint Febronia was brought to trial before the cruel official Selinus and for her confession of Christ she was subjected to inhuman tortures. Saint Hieria intrepidly denounced the cruelty of the torturers. The judge gave orders to arrest and torture her also, but then he changed his mind, in learning that Saint Hieria – was the widow of a Roman senator.
      Bitterly bewailing the martyr's death of Saint Febronia (+ c. 304, Comm. 25 June), Hieria grieved, that she herself had not been vouchsafed to suffer for the faith in Christ. With tears, she besought the Abbess Brienna to accept her in place of Febronia at the monastery. Having bestowed all her substance upon the monastery, the nun Hieria spent there the remaining days of her life and peacefully reposed to God in about the year 320.
© 1996-2001 by translator Fr. S. Janos.