St. Gudula – January 8
1 min read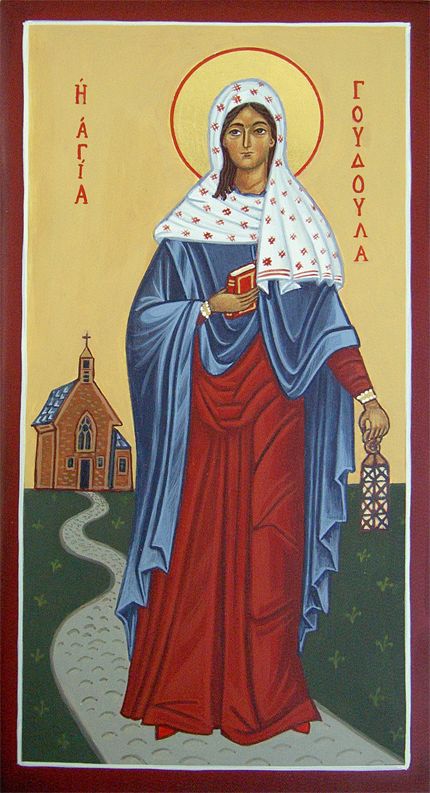 The mother of Gudula, Saint Amalberga, embraced the religious life in the abbey of Maubeuge. She received the veil from the hands of St. Aubert, Bishop of Cambrai (d. about 668). Gudula had two sisters, St. Pharaildis and St. Reineldis, and one brother, Saint Emebertus.[1]
Gudula was educated in the abbey of Nivelles by her godmother, Gertrude of Nivelles. When Gertrude died, she moved back to her home at Moorsel, spending her time in good works and religious devotion. She frequently visited the church of Moorsel, situated about two miles from her parents' house.
Gudula died and was buried at Hamme (Flemish Brabant). Later her relics were removed to the church of St. Salvator in Moorsel, where the body was interred behind the altar. During the reign of Charles, Duke of Lower Lorraine (977–992), the body of the saint was transferred to the chapel of Saint Gaugericus at Brussels. Lambert II, Count of Leuven, (d. 1054) founded a chapter in 1047 in honour of Saint Gudula. Bishop Gerardus I of Cambrai (d. 1051) led the translation of her relics to the church of Saint Michael in Brussels. The church later became the famous St. Michael and St. Gudula Cathedral.[2]
On 6 June 1579 the collegiate church was pillaged and wrecked by the Protestant Geuzen (Beggars), and the relics of the saint disinterred and scattered.
Along with St. Michael, Gudula is a patron saint of Brussels.[2]

The feast of Saint Gudula is generally celebrated on 8 January (the day she died according to her hagiography).