Sermon on the Seven Maccabee Brothers (1 August)
2 min read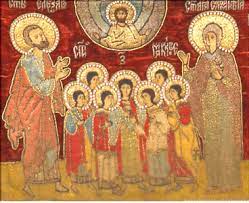 by + B. P.
Today, we begin a period of fasting. In some ways, this brings a certain sadness to us due to the solemnity and struggle of holy fasting. However, the Holy Church today finds a way to bring us unexplainable joy and rejoicing through the celebration of the Martyrs Eleazar, Solomonia, and her seven sons .
This holy martyrdom happened in 166 B.C during the days when King Antiochus IV Epiphanes a pagan Hellenistic king ruled over the Jews. Let no one look down on these martyrs as lesser, having been Jews who lived before the coming of the salvation brought by our Lord God and Savior Jesus Christ. Being the chosen of God at that time, the martyrdom of the Maccabees was and is an offering to God that strengthens the soul of all right-believing Christians.
King Antiochus wanted the Jews to ignore and reject the ways of their forefathers. He asked that the Jews eat pork in violation of the Law given to Moses.
This points out to us two great dangers in our contemporary Christian life. One is to scorn the blessed fasting. And the other is to scorn Holy Tradition.
Their ninety-year-old teacher Eleazar remained firm in his teaching that we should not exchange the traditions of our Fathers in the Faith in favor of this temporal and fleeting life.
The seven brothers were led to their martyrdom one by one and underwent horrible torments starting with the oldest son first. Antiochus suggested to Solomonia before the death of her youngest son, that she advise him to obey the tyrant so that she would have at least one son left for her old age. The Saint of God, however, urged her youngest son to imitate his brothers, and thus he did and earned an eternal crown from God. Solomonia followed her children in marytrdom.