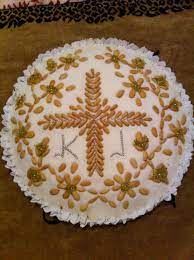 by ARCHBISHOP NIKON (RKLITSKY) of Washington and Florida

 
The Holy Church wishes to commune with joy over those who were risen from the dead through the Lord, Who gave us eternal life, not only the host of Holy Angels and all those who live on earth but also the souls of all those who died from the beginning of humanity, with whom we are bound with the unseen tethers of love, belonging to the Church of Christ and the unity of our very nature. That is why, following the forty-day celebration of the Resurrection of Christ and the nine days of praising the Ascension of the Lord into the sky, the Holy Church, on this Saturday, the eve of the last great feast day, Pentecost, which concludes the Paschal cycle, established the commemoration of all of our forefathers, fathers, and brethren, extending to their souls, through grace-filled love, the light of the Resurrection of Christ.
Such commemoration, as with all other commemoration in the Church, is the communion of love, witness to the fact that death is not the annihilation of being, but the departure into another sphere of life, with which the law of grace-filled love binds us. If the souls of our dear ones are, by means of their righteousness, in the eternal light of the Lord, then by our prayers for them we spiritually join in the light of this grace. If the souls are suffering for their sins, then we pour upon them the light which can draw them out of the darkness of sin and enjoin with the endless light of Christ. We here on earth, by the power of love, help one another here, support each other, encourage each other, and our life falls into disarray, suffering, and destruction when this law of accord, of harmony and love, is violated, for these are the foundation of all creation. This is why prayer for the dead, who are alive "over there", in the sphere of existence yet inconceivable to us now, is so endearing, so precious: it is the expression of a mighty force that unites heaven and earth-love, for God is love.
Together with our joint prayer for all the reposed, today we also lift our earnest prayers for the parishioners of this church: Sophia, for the approaching anniversary of her death, and newly-reposed Fekla, on the fortieth day of her repose. Matushka Sophia, known to all the parishioners of this cathedral and many Russians as the "Queen Matushka", over the course of many years and until the age of 93, served the Church of God, to which she was devoted until her last breath, and newly-reposed Fekla, the wife of our cathedral's helper Stepan Grigorievich Golovay, departed to the Lord a humble and pious woman who lived by the commandments of the Lord.
May these holy prayers of the Church be for those who have died, and for ourselves who are still on earth, rising like the fragrant incense of victory over death and life eternal.

May 1963

About Archbishop Nikon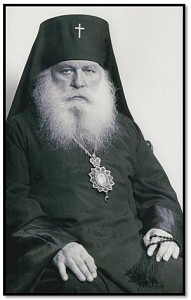 Archbishop Nikon was born on December 4/16, 1892, in the town of Borki, Chernigov, in Russia (present-day Ukraine). In the world he was known as Nicholas Pavlovich Rklitsky, the son of Father Paul Rklitsky and Matushka Elisabeth Korsakevich. "Father Paul was the parish priest in Borki, as well as the local dean" (1). Vladyka recalled once that growing up "he knew all the priests of the area, and remembered how, when his father was alive, they all took an interest in him and were friendly to him, but after his father's repose, no one paid much attention to him anymore" (2). One could say that Vladyka lived a "normal" childhood in Borki. However, he remembered that "when he was a boy he had a motorcycle, which in those days was a great rarity" (3).
   In regard to Vladyka's family name "Rklitsky," "he said it was a Slavic root, and had been traced back to the River Rklik in what is now the Czech Republic. Rklitsky is the adjective form of Rklik; it meant someone from that area. It is possible that long ago, one of Vladyka's ancestors moved from Bohemia or Czechia to the area around Chernigov" (4).
   As a teenager, Nicholas Pavlovich entered the Chernigov Theological Seminary, "which was across the road from the famous Eletsky Monastery" (5). In 1911, he graduated the Seminary, and four years later he graduated from the University of St. Vladimir in Kiev, receiving a law degree. That same year, he was commissioned as assistant military Examining Magistrate. "He took courses at the Nikolaevsky Artillery School there, and was a student at the Alexandrovsky Military-Juridical Academy in St. Petersburg. Nicholas also completed the missionary-theology course in Belgrade, Serbia, at the Russian Diocesan Administration" (6). Afterwards, "he took part in the war from 1914-1917 as an artillery officer, and in the Civil War from 1918-1920. In 1920, he was finally evacuated from the Crimea and lived in Belgrade until 1944" (7).
   While in Yugoslavia, he was "continuing the struggle against communism with his pen, as the editor of the 'Voennyy Vestnik' ('Military Herald') and then, being of legitimist-monarchist persuasion, editing the monarchist organ 'Tsarskiy Vestnik' ('Royal Herald')" (8). From the years 1921 to 1941, he was a journalist. "During this time, he was also a very close co-worker of Metropolitan Anthony (Khrapovitsky) in the church-literature sector. Nicholas wrote down and published the works of Metropolitan Anthony, and also wrote many articles in various publications on church administration and theological questions. He took an active part in church life in the years of church troubles, publicly coming forward in defense of the canonical Church position, about which he wrote in polemical articles and in various publications. He wrote a biography of Metropolitan Anastassy" (9). When reflecting on his youth, Vladyka said that "there was a period when he was a young man that he was distracted from the Church and less active; but then he was close to Metropolitan Anthony (Khrapovitsky), and once again became very much active in church life" (10).
   The now 48-year old Nicholas decided to devote the rest of his life to the Church, and on October 7, 1941, in Belgrade he was tonsured into monasticism with the name Nikon by Metropolitan Anastassy. "On the 1/14 October of that same year he was ordained a hierodeacon, and on 21 November/4 December of that same year, a hieromonk. Attached to Holy Trinity Church in Belgrade, he fulfilled the spiritual commission placed upon him by Metropolitan Anastassy. In 1944, he was evacuated from Belgrade to Germany and was in Carlsbad on the orders of Metropolitan Anastassy. In April 1945, he joined up with the Brotherhood of Venerable Job of Pochaev and departed with them to Switzerland. During the years 1945 and 1946, Vladyka was the personal secretary to Metropolitan Anastassy. He carried out crucial orders for the maintenance of ties between Metropolitan Anastassy, those seeking refuge in Germany and parishes and dioceses in Western Europe, and North and South America in the most critical, transitional time of the resumption of activities of the Hierarchal Synod of the Church Abroad after the war. In May 1946, he was elevated to the rank of Archimandrite" (11).
   "In February 1942, Fr. Nikon, under orders to the Russian Corps, was appointed chaplain of the Reserve battalion in Belgrade. At the time of the battle for the town of Chachak in October 1944, already being igumen, Fr. Nikon was slightly wounded, but the deacon with him was killed. On January 1, 1945, he was appointed Senior Chaplain of the Russian Corps" (12).
   In December 1946, he came to the United States and was appointed secretary to Archbishop Vitaly (Maximenko) and the Diocesan Council of the North American and Canadian Diocese. "He was also assigned to the duty of organizing parishes" (13). On June 27, 1948, Archimandrite Nikon was consecrated Bishop of Florida; one year later, he was elevated to the rank of Archbishop, and made ruling archbishop of the Eastern American Archdiocese. He would also be made the Archbishop of Washington and Florida, as well as the Vice President of the Synod of Bishops.
   During his time in the episcopate, Vladyka was very active in his diocese, as well as in the entire Church Abroad. "On June 15/28, 1948, a conference of bishops was held at the Diocesan Administration in the Bronx to discuss the founding of Holy Trinity Seminary in Jordanville, NY Among the list of professors at the onset of the Seminary was Bishop Nikon, who taught moral and pastoral theology" (14). Vladyka also traveled extensively as part of his duty as a hierarch. He frequently visited the Holy Land, Geneva, South America, and Greece.
   "It is impossible to single out the individually missionary-enlightening and charitable activity of Archbishop Nikon. As the crown of his publishing activities appears the multivolume work compiled by him: "Zhizneopisanie Blazhenneishago Antoniya, Mitropolita Kievskago i Galitskago" ("Biography of Blessed Anthony, Metropolitan of Kiev and Galicia"), dedicated to his spiritual mentor-Abba" (15).
   After the repose of Archbishop Vitaliy (Maximenko) in 1960, Archbishop Nikon continued the construction of St. Vladimir Memorial Church in Jackson, NJ, which was begun by Vladyka Vitaliy.
   Vladyka Nikon reposed peacefully in his sleep on 21 August/4 September 1976, at the age of 84. He was at the rectory of the Holy Ascension Cathedral in the Bronx. His death was attributed to coronary artery disease. His funeral services were held on 24 August/7 September at the Synodal Cathedral of Our Lady of the Sign in Manhattan. Archbishop Nikon was interred in the lower church of St. Vladimir Memorial Church, alongside his predecessor, Archbishop Vitaliy. Both of these hierarchs are visited by the faithful up to this very day, who ask for their guidance and holy prayers.
   Archbishop Nikon is remembered as a kind and humble servant of God who dedicated himself to our Church. On the 34th anniversary of his repose, we reflect on his life and work and pray that future generations will keep his memory alive.
The biography of Abp. Nikon was reproduced with permission from:
"Archbishop Nikon: His Labors in the Vineyard of Christ"
A publication of St. Vladimir Memorial Church. 2002.