"PATRIARCH" OF ALEXANDRIA: I DECIDED TO COMMEMORATE EPIPHANY AFTER PRIVATE DISCUSSIONS WITH BISHOPS AND "TIME OF PRAYER" News about the World Orthodox
2 min read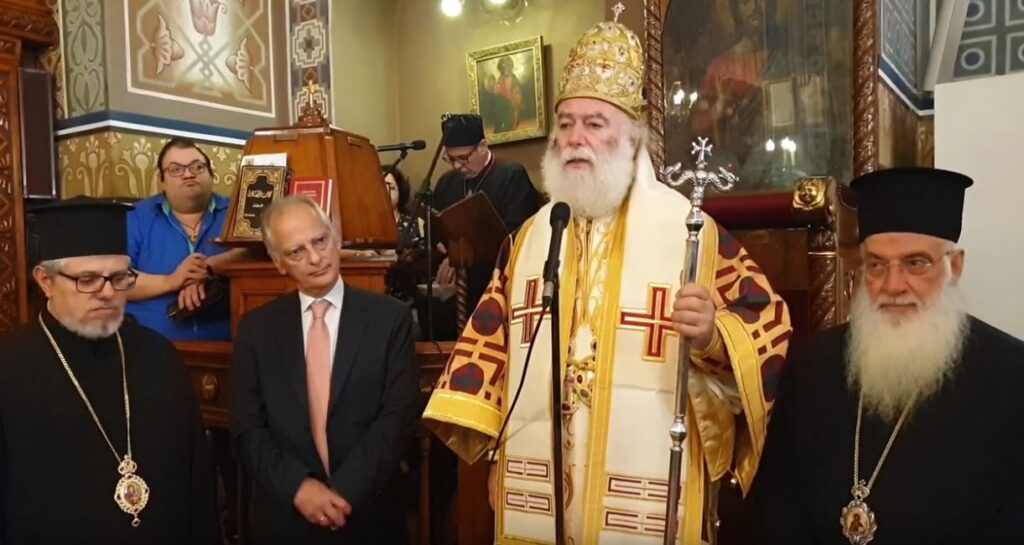 Alexandria, November 8, 2019
Patriarch Theodoros with the Greek ambassador to Egypt at today's Liturgy. Photo: orthodoxianewsagency.gr
In a press release issued today and a letter circulated to the hierarchs of the Patriarchate of Alexandria, Patriarch Theodoros explains his decision to commemorate Epiphany Dumenko, the primate of the schismatic "Orthodox Church of Ukraine," today.
The press release has been published by Romfea, and the letter to the hierarchs by the Orthodoxia News Agency.
The Patriarch notes that no Synodal decision was made on recognizing the OCU, but that he made the decision himself, reflecting the general consensus of the bishops of the Patriarchate.
The press release reads:
In recent months, we have seen the disposition/desire of the fraternal Holy Hierarchs to recognize the autocephaly of the Ukrainian Church, granted by the Synodal tomos of the All-Holy Ecumenical Patriarch.
As all know, our Holy, Catholic Orthodox Church functions through a conciliar system of governance, as received by tradition from the holy Ecumenical Councils. In this regard, the presidents of the Local Church Synods are among their members.
In this regard, we, as a member of and executor of the disposition/desire of the fraternal Holy Hierarchs, commemorated in the diptychs of the Catholic Orthodox Church the primate of the autocephalous Church of Kiev and All Ukraine His Beatitude Metropolitan Epiphany, fervently praying for peace and the prosperity of our Orthodox Churches.
The letter to the bishops reads:
In light of what we have discussed in detail and in person with all of you, and after ripe reflection and much prayer, having sought the inspiration of the Paraclete, the Holy Spirit, and being concerned for the unity of the Orthodox Church, we have been led to the decision to proceed to recognize the Autocephaly of the Orthodox Church of Ukraine, and of Her Primate, His Beatitude Epiphanios, as the time has come.
According to the Ukrainian Telegram channel Pravblog, with reference to its own sources, and according to other sources that have spoken with OrthoChristian, Patriarch Theodoros was pressured by the Greek Foreign Ministry to recognize the schismatics, threatening to cut off funding to the Patriarchate from the Greek state.
It is significant that the first commemoration of Epiphany Dumenko by Pat. Theodoros came in the presence of the Greek ambassador to Egypt, whom the Patriarch specifically mentioned in his short speech following the service.