Leavetaking of Pascha – Christ is risen!
2 min read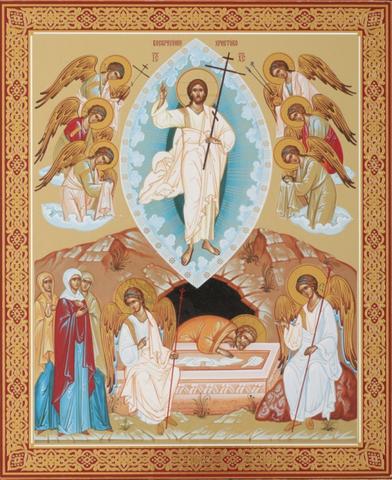 We greet each other tomorrow at the service of the ninth hour with "Christ is risen!" for the last time this year. Christ is risen, however, is always a blessed greeting. Here is that greeting in many tongues.

Aleut:
Khristus anahgrecum!
Alhecum anahgrecum!
Aleut:
Khris-tusax agla-gikux!
Agangu-lakan agla-gikux!
Albanian:
Krishti U Ngjall!
Vertet U Ngjall!
Alutuq:
Khris-tusaq ung-uixtuq!
Pijii-nuq ung-uixtuq!
Amharic:
Kristos tenestwal!
Bergit tenestwal!
Anglo-Saxon:
Crist aras!
Crist sodhlice aras!
Arabic:
El Messieh kahm!
Hakken kahm!
Armenian:
Kristos haryav ee merelotz!
Orhnial eh harootyunuh kristosee!
Athabascan:
Xristosi banuytashtch'ey!
Gheli banuytashtch'ey!
Bulgarian:
Hristos voskrese!
Vo istina voskrese!
Byelorussian:
Khrystos uvaskros!
Saprawdy uvaskros!
Chinese:
Helisituosi fuhuole!
Queshi fuhuole!
Coptic:
Pchristos aftooun!
Alethos aftooun!
Czech:
Vstal z mrtvých Kristus!
Vpravdě vstal z mrtvých!
Danish:
Kristus er opstanden!
Ja, sandelig opstanden!
Dutch:
Christus is opgestaan!
Ja, hij is waarlijk opgestaan!
English:
Christ is risen!
Indeed He is risen!
Eritrean-Tigre:
Christos tensiou!
Bahake tensiou!
Esperanto:
Kristo levigis!
Vere levigis!
Estonian:
Kristus on üles tõusnud!
Ta on tõesti üles tõusnud!
Ethiopian:
Christos t'ensah em' muhtan!
Exai' ab-her eokala!
Finnish:
Kristus nousi kuolleista!
Totisesti nousi!
French:
Le Christ est réssuscité!
En verite il est réssuscité!
Gaelic:
Taw creest ereen!
Taw shay ereen guhdyne!
Georgian:
Kriste aghsdga!
Cheshmaritad aghsdga!
German:
Christus ist auferstanden!
Wahrlich Er ist auferstanden!
Greek:
Christos anesti!
Alithos anesti!
Hawaiian:
Ua ala hou 'o Kristo!
Ua ala 'I 'o no 'oia!
Hebrew:
Ha Masheeha houh quam!
Be emet quam!
Hungarian:
Krisztus feltamadt!
Valoban feltamadt!
Ibo ( Nigeria):
Jesu Kristi ebiliwo!
Ezia o' biliwo!
Indian (Malayalam):
Christu uyirthezhunnettu!
Theerchayayum uyirthezhunnettu!
Indonesian:
Kristus telah bangkit!
Benar dia telah bangkit!
Italian:
Cristo e' risorto!
Veramente e' risorto!
Japanese:
Harisutos Fukkatsu!
Jitsu ni Fukkatsu!
Javanese:
Kristus sampun wungu!
Tuhu sampun wungu!
Korean:
Kristo gesso!
Buhar ha sho nay!
Latin:
Christus resurrexit!
Vere resurrexit!
Latvian:
Kristus ir augsham sales!
Teyasham ir augsham sales vinsch!
Lugandan:
Kristo ajukkide!
Amajim ajukkide!
Norwegian:
Christus er oppstanden!
Sandelig han er oppstanden!
Polish:
Khristus zmartwyckwstal!
Zaprawde zmartwyckwstal!
Portuguese:
Cristo ressuscitou!
Em verdade ressuscitou!
Romanian:
Hristos a inviat!
Adevărat a înviat!
Russian:
Khristos voskrese!
Voistinu voskrese!
Sanskrit:
Kristo'pastitaha!
Satvam upastitaha!
Serbian:
Hristos vaskrse!
Vaistunu vaskrse!
Slovak:
Christos vstal z mŕtvych!
Vpravde vstal z mŕtvych!
Spanish:
Cristo ha resucitado!
En verdad ha resucitado!
Swahili:
Kristo amefufukka!
Kweli amefufukka!
Swedish:
Kristus är uppstånden!
Han är sannerligen uppstånden!
Syriac:
M'shee ho dkom!
Ha koo qam!
Tlingit:
Xristos Kuxwoo-digoot!
Xegaa-kux Kuxwoo-digoot!
Turkish:
Hristos diril – di!
Hakikaten diril – di!
Ugandan:
Kristo ajukkide!
Kweli ajukkide!
Ukrainian:
Khristos voskres!
Voistinu voskres!
Welsh:
Atgyfododd Crist!
Atgyfododd yn wir!
Yupik:
Xris-tusaq Ung-uixtuq!
Iluumun Ung-uixtuq!
Zulu:
Ukristu uvukile!
Uvukile kuphela!