Learn Why the Church-Goers of the Greek Diocese Were Screaming in Church.
2 min read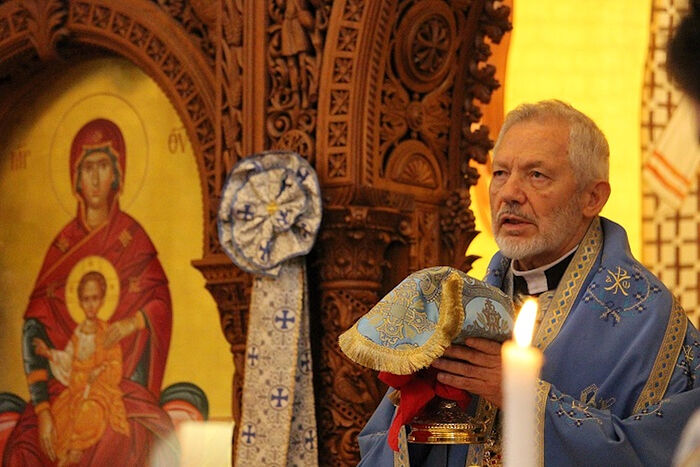 GREEK FAITHFUL IN CANADA GREET METROPOLITAN'S DIRECTIVE TO USE MULTIPLE SPOONS WITH CRIES OF "ANAXIOS!" (+VIDEO)
Toronto, Canada, July 14, 2020
The faithful at a Greek Orthodox parish under the Patriarchate of Constantinople in Canada loudly and fervently rejected the directive from their ruling hierarch Metropolitan Sotirios that multiple spoons are to be used to serve Holy Communion to the people.
In a video published by Romfea, it can be heard how the people cry "No!" "Only the holy spoon!" and "Sotirios is anaxios [unworthy]!" as the parish priest reads the new directives from the Archdiocese of Canada:
​
In particular, the directives state that, "The celebrant will utilize multiple stainless steel spoons, that will be single use (one for every individual) when communing the people. This method eliminates the danger of using common utensils."
"Following the Divine Liturgy, the stainless steel spoons will be disinfected using cleaners and then strong disinfectants according to Public Health of Ontario, Cleaning and Disinfection for Public Settings," the directives also state.
Read the full guidelines below:
The Greek Archdiocese of Canada previously announced a ban on Holy Communion in Toronto, following the city's requirements that were based on the recommendation of the Chief Medical Officer of Health of Ontario. It then became known that the Archdiocese's decision was instigated by a local Greek organization, the Greek Community of Toronto, and local parishioners, who threatened to hold the Church liable for not following city guidelines.
OrthoChristian was informed by various sources that the city was not strictly enforcing its requirements, and only the Greek Archdiocese had implemented the ban, though it seems to have changed to the use of multiple spoons after the severe backlash following the ban on Holy Communion.