Instructions for an Orthodox Christian by St. Philaret of New York
2 min read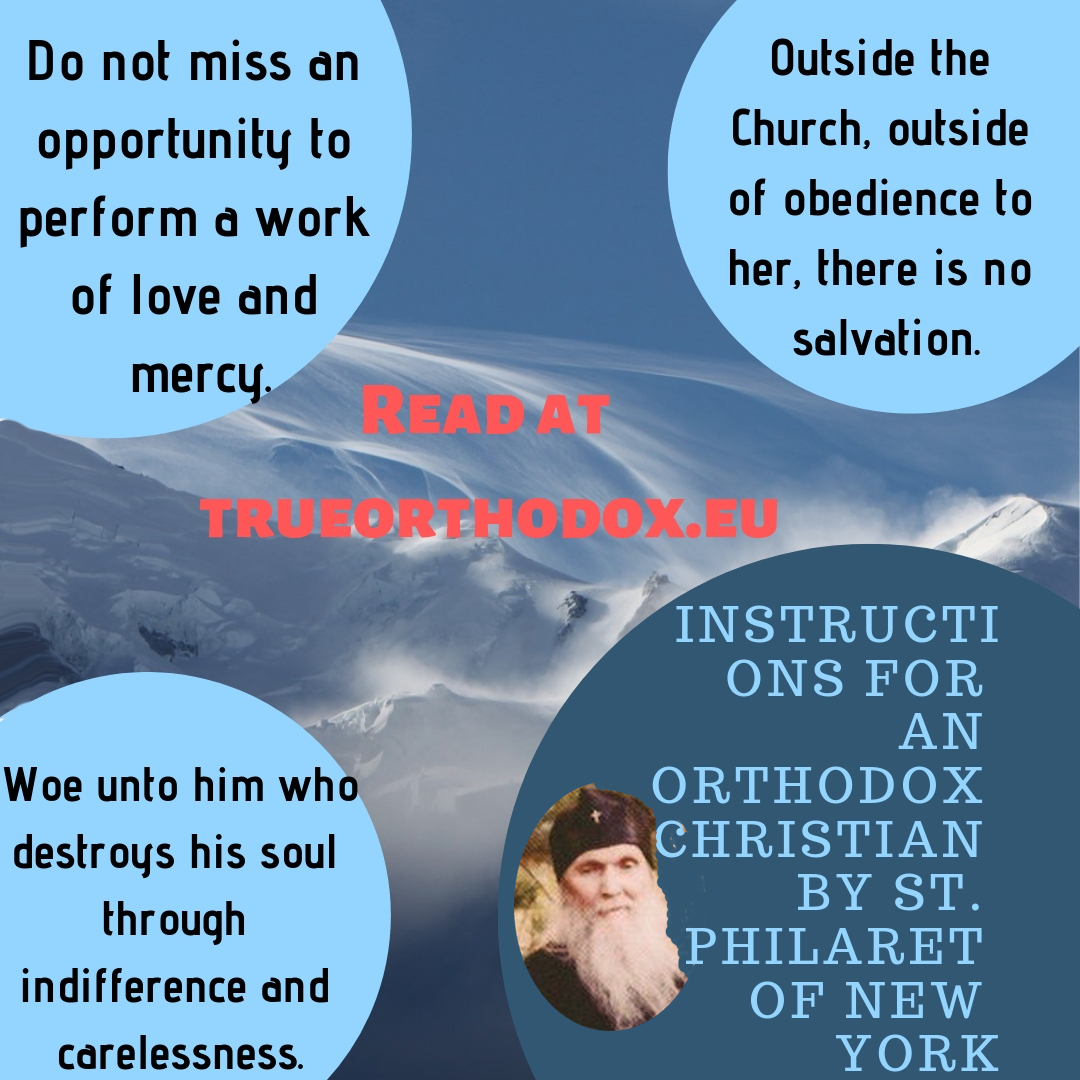 Instructions for an Orthodox Christian
Instructions for an Orthodox Christian
by
St. Philaret of New York
1.   Remember:  you are a son (daughter) of the Orthodox Church.  These are not empty words. Remember under what obligation this places  you
2.   Earthly life is fleeting.  You won't notice how it flashes by.  But by this life, the eternal lot of your soul will be determined.  Do not forget this not even for a moment.
3.   Try to live piously.  Pray to God in church; pray to God at home with reverence, with faith, with devotion to the will of the Lord.  Carry out the holy and salvific rules of the Church, her regulations and commandments.  Outside the Church, outside of obedience to her, there is no salvation.
4.   The gift of speech is a great gift of God.  It elevates a person to nobility, it immeasurably lifts him over other earthly creatures.  But how mankind which has become perverse now abuses it.  Protect this gift and know how to use the word in a Christian manner.  Do not judge, do not speak idly.  Fear as fire foulness of speech and seductive speaking.  Do not forget the words of our Lord and Savior:  "by thy words shalt thou be justified and by thy words shalt thou shall be condemned."  Do not permit lying.  The Holy Scriptures sternly warn:  "The Lord will destroy all those who speak a lie."
5.   Love your neighbor as yourself according to the Lord's commandment.  Without love, there is no Christianity.  Remember:  Christian love is self-sacrificing, and not egotistical.  Do not miss an opportunity to perform a work of love and mercy.
6.   Be modest, pure and chaste in your deeds, words, and thoughts.  Do not imitate the perverse.  Do not take their example, and avoid any closeness to them.  Without need, have nothing to do with unbelievers — unbelief is contagious.  Observe modesty and decency always and everywhere; don't become infected with the shameless customs of our days.
7.   Fear and flee from vainglory and pride.  Pride cast down from the heavens the highest and most powerful of angels.  You must remember: thou art earth and unto the earth shalt thou return…. Deeply humble yourself.
8.   The basic objective of life is to save the soul for eternity.  Let this be the main objective and concern of your life.  Woe unto him who destroys his soul through indifference and carelessness.
May the Lord bless you and help you.
Your spiritual father,
+Metropolitan Philaret