Ecumenistic Prayer with Pope in Latvia
1 min read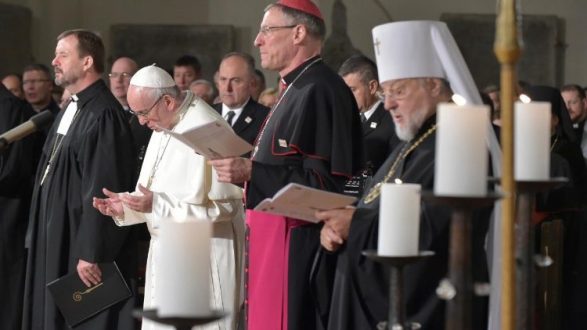 Pope Francis conducted an ecumenical prayer on September 24 at the Riga Dome Cathedral.  The Ring Dome Cathedral belongs to the Latvian Evangelical Lutheran Church. 
"Our mission today calls us to preserve unity, and this, in turn, requires us to stop looking at the wounds of the past and abandon our egocentric attitude. Our mission is to ensure that the music of the Gospel does not cease to sound in our squares, "said Francis.
According to the papal press pool, this central event of the Latvian program of the pontiff's visit was attended by heads and representatives of ten Christian denominations operating in the Republic. Among them, one of the central places was occupied by the head of the Latvian Orthodox Church of the Moscow Patriarchate, Metropolitan of Riga and All Latvia, Alexander (Kudryashov), who read his own small prayer "in the name of unity". The service was held to the sound of one of the oldest organs in Europe.