All Orthodox Christians Must Be Quarantined!
2 min read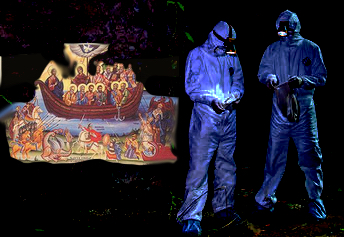 by Bishop Philaretos
Quarantined not because they are sick, but to keep them safe from spiritual sickness which is everywhere! To preserve them from the infection which is called heresy. Don't worry it doesn't mean you won't be in the world, but it does mean you will not be "of the world".
How much is it a real need to remain cut off from heresy? Well to remain in the Church, one must certainly not be in communion with known heretics.
During the time of the heresy of Arianism, St. Basil the Great in his Epistle 243 to bishops in Europe writes, "We fear that perhaps the evil that is spreading like a fire in the middle of the burning forest when it has devoured the near will reach out to the far. For the evil of heresy expands".
During the days of this epistle, Arianism was the "official" church of the Empire. Let's not forget that when St. Gregory the Theologian was elected Patriarch of Constantinople, there wasn't a single Orthodox church in Constantinople for him to serve in, as the Arians had been given all the church buildings.
St. Basil goes on to say that every coexistence with the "chronic deception" aids heresy. "The ears of the more simple have now become accustomed to the heretical blasphemy. The babes of the Church are brought up with words of impiety."
"What are we supposed to do? Everything is in their (the heretics') hands. Baptisms, funerals, visitations to the sick, comforting the grieving, help to those with sufferings, relief of every kind, communion of the mysteries. Since all these things are being performed by the heretics, they become a liaison of likewise thinking between the people and the heretics. So in a little while yet, and if every fear disappears, there will be no hope of calling back to the knowledge of the truth those who have been seized by the long-lasting deception (heresy)."
"Commiserate us, you with brotherly love, for here where we are, the mouth of the pious have been shut, whereas the the mouths of every brazen and blasphemous tongue have been opened and offer profane words against God."
"The departings of presbyters, the departings of deacons, the depredation of clergy, because it is necessary to either venerate the icon (as in the Prophet Daniel) or give oneself over to the evil flame of scourgings. The sighing of populations, the non-stop tears, whether private or public."
"One is the crime that is now exceedingly avenged – the precise keeping of the patristic traditions."