Abbess Magdalena (Countess Grabbe). Recipient of St. Philaret's Amazing Epistle.
2 min read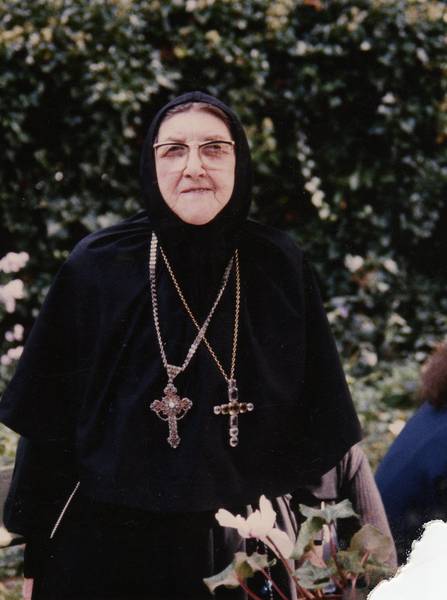 Abbess Magdalena of Lesna Convent.  Recipient of St. Philaret's Amazing Epistle.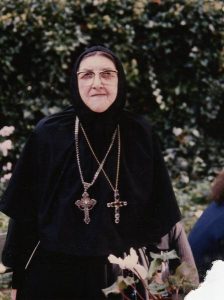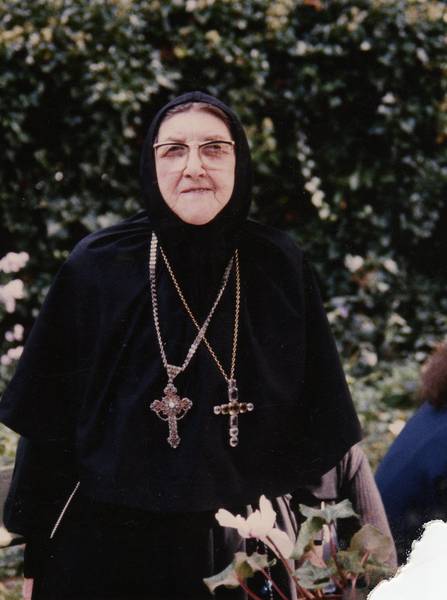 Abbess Magdalena, according to the world Nina Pavlovna Grabbe, was a Russian Orthodox nun and abbess.  She was born on June 7, 1903 in the Russian city of Saint Petersburg.  She was Abbess of the Lesna Convent from 1976 until her death in 1987.
Biography 
Nina Pavlovna Grabbe was born on June 7, 1903, in St. Petersburg. She was the daughter of Count Paveł Grabbe and his wife Anastasia Georgievna, née Demidova. She was brought up in respect of the military traditions of the Grabbe family and the ideas of Slavophilism proclaimed by her great-grandfather Alexei Khomiakov (Russian poet, playwright, journalist, painter, and Orthodox thinker).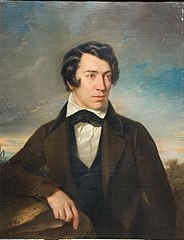 Her grandmothers had a special influence on her upbringing.  After the Bolshevik October Revolution, she and her family found themselves in exile in Greece. Her mother died in the refugee camp on the Greek Island of Limnos. The family then lived in the family estate in Volhynia. After the Red Army invaded Volhynia in 1939, the family tried unsuccessfully to get to the Polish territories under German occupation, and then cross the Hungarian border. On the way, they were detained by a Soviet unit and Pavel Grabbe found himself in prison. Nina Grabbe, fearing her arrest, fled to Lvov.  After 1941, she received permission to travel to Yugoslavia, where her brother Yuri, the head of the office of the Russian Orthodox Church Outside of Russia (ROCOR), was already living. In the last years of World War II, Yuri Grabbe, together with the whole Synod of ROCOR, left for Germany. Nina Grabbe stayed in Belgrade and joined the Convent of the Lesna Mother of God that was in Serbia at that time. Together with the whole community, she left for France in 1950.
In her monastic tonsure, she received the name, Magdalena. She quickly became one of Abbess Theodora's closest co-workers.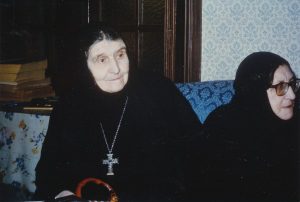 As Abbess Theodora's health deteriorated, she gradually took over the duties of managing the monastery, which is one of the most important spiritual centers of Russian emigration.
She was, according to the flesh, the sister of Bishop George Grabbe the long-time canonist of ROCOR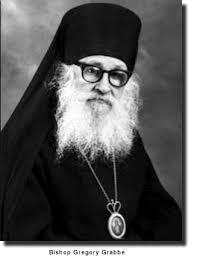 and aunt to Bishop Anthony Grabbe.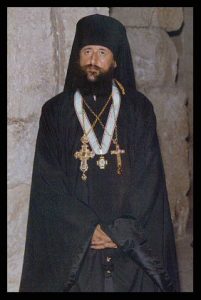 She died of cancer on September 3, 1987. She had hidden her illness for a long time, revealing it only in June 1987.  She refused to undergo therapy and returned to the monastery. She herself pointed to her nun Athanasia as her successor. She was buried in the cemetery of the Lesna Convent.